250 L/min - 15 m3/h - GRAIN SIZE 25 mm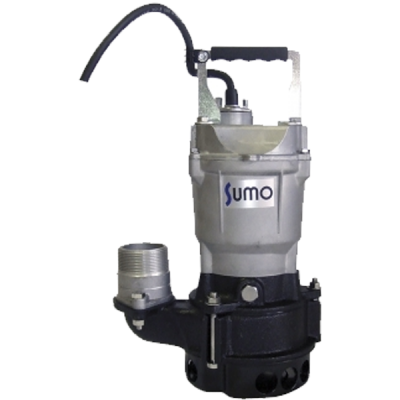 Our submersible pumps, compact and lightweight, are specially designed for daily and intensive use. An optimum sealing system and thermal protection ensure safe use. They respond to numerous pumping applications: cellar flooding; drainage on construction sites; intervention on mining or industrial sites; solutions for firefighters and military.
VORTEX Effect Turbine
It is the turbine design that allows the pump to discharge water and material without the risk of clogging. Indeed, the "VORTEX effect" turbine creates a vortex in the pump body allowing the material to be evacuated with the liquid without being in contact with the hydraulic parts.
Technical characteristics SUMO BHV401S
| | |
| --- | --- |
| Pump type | submersible -electric  |
| Ø of the discharge connection | 50 mm (2″) |
| Max flow | 250 L/min – 15 m3/h |
| Height manometric total | 11 m |
| Grain size | 25 mm |
| Engine speed | 2950 rpm |
| Dimensions (L × l × H) | 270 x 210 x 480 mm |
| Net dry weight | 10 kg |